Current:

69% of Organizations in India Identify as "Digital Businesses" With a Clear Digital Strategy and Technology Integration, Finds IDC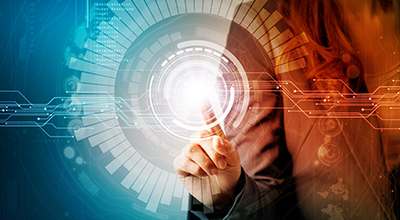 Publication date: 01 Jun 2023
69% of Organizations in India Identify as "Digital Businesses" With a Clear Digital Strategy and Technology Integration, Finds IDC
Contact
For more information, contact:
INDIA, June 01, 2023 – According to recent report Digital Transformation Adoption — Industry Priorities and Focus Areas, I nternational D ata C orporation (IDC) finds that 69%* of all organizations identify themselves as "digital businesses," indicating that they either possess a well-defined digital strategy supported by widespread implementation of digital technologies throughout their operations, or they are actively undergoing a transformation process to enhance their digital capabilities. Conversely, 22% of organizations do not consider themselves as digital businesses, implying a lack of focus on digitalization. Lastly, the remaining 9% are classified as "digital native businesses," suggesting that they were originally conceived and built with a strong emphasis on digital technologies from their inception.
Although Indian organizations started their digital technologies adoption journey later than their Asia/Pacific and global counterparts, now, they show higher adoption rate of digital strategies. The relatively higher adoption rate can be attributed to several factors such as government policies promoting the use of digital technologies, competitive pressures, and learnings and experiences of other regions that have gone through digital transformation.
Many organizations have survived the storms of disruption, i.e., factors such as supply chain constraints, recessionary fears, geopolitical unrest, and inflationary pressure among others in the last couple of years. Now, we are entering a digital business era where organizations will evolve from a transformation mindset to running a viable digital business in the long term.
On the other hand, tech suppliers (hardware/software and service providers) are innovating how they can deliver their offerings (in terms of deployment, pricing, support, etc.), such as the as-a-service model, consumption or outcome-based pricing, platform-based service support, etc. to become strategic partners for buyer organizations and leverage the market opportunity.
However, as we enter the digital business era, organizations anticipate that macroeconomic upheaval will continue to impact their tech budget decisions. IDC's Future Enterprise Resiliency & Spending Survey (FERS), wave 1, January 2023 reveals that supply chain constraints, inflation impact, staffing/labor shortages, and recession are the top risk factors that concern organizations the most in 2023. Therefore, the previous playbooks for IT budgeting need to be updated, and emphasis needs to be on enabling tech buyer organizations to optimize digital investments.
While the future of Indian organizations being digital-centric, tech vendors need to realize that not all transformation plans are plain sailing. Both tech buyers and suppliers need to identify factors that are leading to the delay/failure of digital projects. The focus needs to be laid on how the lessons learned from failed digital projects can be internalized to evolve as a viable digital business.
"In a world of constant disruption, the capability of an organization to not only respond to the disruption but also flourish will determine its success in the market. Therefore, it is critical to analyze what went wrong and constantly improve. Keeping a close eye on the macroeconomic factors that impact businesses and staying technically updated can be practiced. This practice is relevant to tech suppliers and tech buyers," says Rithika Ponnala, Senior Research Analyst at IDC India.
"India's economy has displayed remarkable resilience in the face of macroeconomic challenges. However, the impact of inflation and the looming recession have resulted in a renewed emphasis on investment optimization to maximize ROI, particularly in the realm of IT spending. Organizations are prioritizing the optimization of their existing IT investments and are directing their focus towards making digital investments with a keen eye on ROI. Tech buyers are carefully considering deployment, pricing, and support options, including as-a-service models, consumption or outcome-based pricing, and platform-based service support, as these factors are increasingly crucial in the selection of strategic partners for IT initiatives," says Neha Gupta, Senior Research Manager at IDC India.
IDC's recently published research document, Digital Transformation Adoption — Industry Priorities and Focus Areas, International Data Corporation , April 2023, Doc # AP50372423, includes guidance for tech suppliers and tech buyers, outlined by analyzing the preparedness and action plan of Indian organizations in the journey towards becoming a digital business. The document is published as part of IDC India Digital Business Strategies program.
This document provides a detailed view of Indian organizations across key sectors (Manufacturing, BFSI, Communications, Healthcare, Government, and Retail and Wholesale). Uptake in digital spending, industry developments, and macro-economic challenges, digital technologies (implemented/plan to implement) across the key industries among others are analyzed in this document.
Note:
• IDC's Future Enterprise Resiliency & Spending Survey (FERS), Wave 2, March 2023, (India, n = 70)
• IDC's Future Enterprise Resiliency & Spending Survey (FERS), wave 1, January 2023 (India n = 50)
--Ends--
For more information about this report, trends, or questions for analysts, please contact Shivani Anand Senior Marketing Specialist at sanand@idc.com . You can also follow IDC India's Twitter and LinkedIn  pages for regular updates on IDC's research & events.
About IDC India Digital Business Strategies Program
IDC's India Digital Business Strategies program examines organizations' maturity with respect to digital adoption, key market trends, key transformation drivers and inhibitors, competitive landscape, end-user buying behavior, and key implications for tech suppliers. The reports combine both supply and demand perspectives, in-depth analysis, and forecasts on customer buying behavior that enable the vendors as well as buyers to take necessary actions.
In addition to the insight provided in this service, IDC may conduct research on specific topics or emerging market segments via research offerings that require additional IDC funding and client investment. To learn more about the analysts and published research, please visit: India Digital Business Strategies.
About IDC
International Data Corporation (IDC) is the premier global provider of market intelligence, advisory services, and events for the information technology, telecommunications, and consumer technology markets. With more than 1,300 analysts worldwide, IDC offers global, regional, and local expertise on technology, IT benchmarking and sourcing, and industry opportunities and trends in over 110 countries. IDC's analysis and insight helps IT professionals, business executives, and the investment community to make fact-based technology decisions and to achieve their key business objectives. Founded in 1964, IDC is a wholly owned subsidiary of International Data Group (IDG), the world's leading tech media, data, and marketing services company. To learn more about IDC, please visit www.idc.com. Follow IDC on Twitter at @IDC  and LinkedIn. Subscribe to the IDC Blog  for industry news and insights.
Coverage