Outlook for the Canadian Future of Work
The pandemic has driven the adoption of a wide range of digital technologies such as analytics and artificial intelligence (AI), IoT, cloud services, augmented reality and virtual reality, etc. These technologies changed the way employees work, engage, and perform. The right technology investments to support a broad mix of remote and in-office employees will boost productivity and an organizations' success over the next few years. Based on IDC FutureScape: Worldwide Future of Work 2022 Predictions- Canada implications, it is predicted that:
By 2024, one-third of G2000 firms will rely on secure, highly integrated, and collaborative intelligent digital workspaces, that enable enterprises to function as borderless organizations.

By 2023, digital transformation and business volatility will drive 70% of G2000 organizations to deploy remote or hybrid-first work models, redefining work processes and engaging diverse talent.
IDC's Future of Work Framework
Even prior to the pandemic, IDC started exploring the shift in the nature of "work" due to the proliferation of innovative technologies. IDC developed the FoW framework to address the challenges of inflexible work environments, help organizations structure work transformation strategies, and scope FoW initiatives. The pillars of IDC's FoW framework encompass redesigning and embracing intelligent digital workspaces, addressing the challenges of talent limitations and inadequate security, privacy, and trust, and focusing on policies and processes for hybrid models through automation as well as augmentation.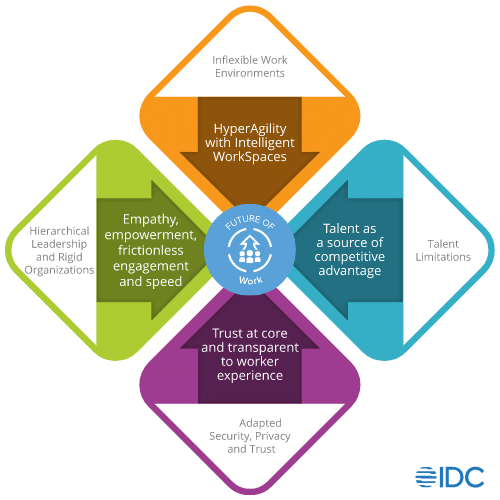 What is an 'Intelligent Digital Workspace'?
Intelligent Digital Workspaces (IDW) encompass nearly all facets of modern and digital future of work. IDW is an ecosystem where people, data, content, community, and context meet with the technological solutions, workers need to do their jobs. Before the pandemic, IDW technologies were emerging to streamline digital workflows and environments for end-users across a range of industries. During the pandemic, digital workspace technologies not only kept remote workers connected but also supported frontline and field workers.
A recent IDC Canada Survey Spotlight report (What are the different technologies needed to build an intelligent digital workspace?) showed that Canadian organizations have invested in a series of IDWs to enable hybrid work. Around 47% of Canadian organizations have invested in interconnected collaborative workspaces followed by remote team enablement (45%) and employee experience optimization (42%). This allows for collaboration, streamlined processes, and access to systems anytime.
What's Driving Growth in the 'Intelligent Digital Workspace' market in Canada?
Intelligent Digital Workspaces will provide a personalized and federated view of the resources that workers require to get their jobs done and enable them to achieve new levels of agility and efficiency. Some of the areas driving this growth include:
Increased demand for collaboration:

Canadian organizations are investing heavily in team collaboration tools such as team messaging, video conferencing, webinars, and broader unified communications-as-a-service suites. More businesses have moved enterprise telephony and video conferencing workloads to the cloud, in line with the rising growth in cloud communications and collaboration services. It enables teams to engage in seamless and centralized communications, enhancing employee productivity, information management, and improving customer experience.

Seamless hybrid/remote work models support:

Remote and hybrid work models top the list of enduring practices defining a more resilient workplace. Canadian enterprises are increasing their spend on IDW technologies to support hybrid work and address the security challenges associated with it. It will be critical for IT to maintain consistent, secure, and highly productive digital experiences for workers in a hybrid world.

Investment in 'Smart Facilities' technologies:

An intelligent digital workspace empowers organizations to operate efficiently, optimize available space and plan for future workspace requirements. Canadian enterprises are investing in Smart Facilities technologies such as building infrastructure, intelligent space planning, smart lighting, and strategic workplace design to plan for future workspace utilization, all of which can reduce costs significantly. AI and predictive analytics are being employed to accurately forecast space utilization into the future.

Focus on digital/technical parity: Digital parity is the requisite that all workers have secure access to resources required to do their jobs, no matter their preferred device or if they are onsite, remote, or in the field. As per the IDC FutureScape: Worldwide Future of Work 2022 Predictions

,

parity of experience is projected to be achieved by most Canadian organizations by 2025, By doing so, Canadian organizations will be able to provide a comparable employee experience to a hybrid workforce and ensure that all workers interact with corporate resources, with a consistent experience and context across locations.
Promote sustainability:

Intelligent workspaces are a great enabler of sustainability, as they allow for efficiency gains and new and cleaner ways of doing things. Various digital platforms will augment and automate work, create new jobs, and generate new business value, enabling remote work and increasing efficiency. This will in turn create less waste and fewer commutes, resulting in stronger job satisfaction, lower stress levels, reduced traffic, and healthier lifestyles.
What's the 'Intelligent Digital Workspace' Opportunity for Canadian Organizations?
Canadian organizations need to address legacy issues that are holding them back from transforming how their employees work and interact.
Learn from your early workspace adopters. Identify where collaboration applications are in use in the enterprise, learn who is using them and redesign how the work is done.
Prepare for a hybrid intelligent digital workspace, spanning both at-home and in-office. The future of the workplace will be hybrid — a mix of workers spending time in a site-specific location, as well as remote work. This new model extends beyond "the office" and has expanded to retail stores, energy and construction sites, and healthcare facilities.
Accommodate different types of workers. The idea is to accommodate and connect all employees and partners, including gig, part-time, and field workers. IT leaders should interpret and visualize what an IDW means for their internal customers, partners, and constituents.
Look for technology platforms from the framework of the three digital workspace levels. Organizations should consider any new technology purchase or implementation within the context of the digital workspace layers framework — physical, digital, and infrastructure.
To learn more about the future of work, join IDC experts and seasoned future of work leaders from Canada at The Canadian CIO Future of Work Summit in September, 2022. For information on event partnerships, contact Marcel Potvin at mpotvin@idc.com.
About the Author
Anu Mehta, Senior Research Analyst, Canadian IT Markets
Associated IDC Services:
Canada: Future of Work research
Anu Mehta is a Senior Research Analyst for IT Markets at IDC Canada. She is responsible for report writing, qualitative interviews, customer case study analysis, secondary research, survey analysis, competitive analysis, and project management.

Prior to joining IDC, Anu worked with FTI Consulting, BFG Enterprise, and Ernst and Young (EY) as a Senior Research Analyst in Telecom, Media, and Technology sectors. She has expertise in secondary research, market intelligence, data and forecasting, analytical and writing skills. She loves analyzing the key performance, business, and financial metrics of technology industry players.